Error message
[TRUTH] GAMES I-II-III
Is technology the new common good? In the era of fake news, when hype out trumps fact, is it possible to discover a shared sense of value regardless of our personal biases?
In an attempt to understand our relationship with technology and the way we apply different technics for self-preservation, FP24  invited six cultural producers to reflect on the topics which touch their work and personal lives. We shall present our findings as a series of lecture performances, in three sessions over a period of twelve months. To conclude the project, the essays will be combined and published as an artist's book for future references.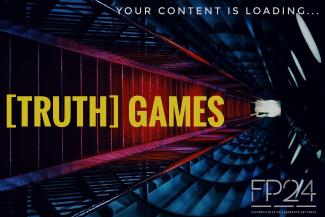 Daphne Alexandra Vermolen Gambieraki GR, NL
A hybrid with working class, rural Mediterranean island roots, but also a product of western elite/hegemonic education, Daphne is an aspiring conflict photographer and forensic psychologist. Interested in the intersection between politics and art, and technology and ethics, she has been a humanitarian aid worker in Greece, a legal adviser for refugees in The Hague, and is currently members' administrator of the Dutch Future Society. She is completing two MA programmes in Modern Middle Eastern Studies and Global Conflict in the Modern Era at Leiden University.
Nina Lissone ES, NL
Nina is of Spanish descent and was born in Amsterdam. After completing her Honors degree in Liberal Arts, majoring in Human Diversity at LUC The Hague, she has worked for i-D Magazine, the Organisation for the Prohibition of Chemical Weapons, and art space Nest. Her interests lie at the intersection of memory, identity, and storytelling. 
Sabina Menottiová USA, SK, DE
Sabina Menottiová is a community youth worker and multimedia artist. Her practice investigates personal and collective processes of meaning-making. Since her youth, Sabina has been interested in the unique rituals, existential questions, paradoxes, and identity-construction of cultures across the globe. She grew up in between Bratislava and San Francisco, where she led her first community building retreats, and then obtained her BA in Human Interaction from Leiden University's Liberal Arts Honours College. 
Sabina pursued her interests in New York City, where she became a performing member of an artist/activist collective, Artists for Justice.   Artists for Justice produces performance art projects in public spaces throughout the city and organizes community discussions. 
Sabina undertook another creative project in Berlin, Germany:  In Mir Zuhause.  The project, In Mir Zuhause, facilitated a collaboration between the artist group ¿Che.Ne.So? And an incoming class of migrant and refugee teenagers new to Germany. 
The partnership offered young refugees an opportunity to explore the impact of adjusting and re-establishing themselves as individuals from different cultural backgrounds, within an unfamiliar urban community in a new country.  In her current role as a child and youth work manager at a refugee shelter, she continues to address these questions and explorations. 
Sabina's work as an artist is informed by the tension between different forms and definitions of identity. Her artwork ranges from wearable sculptures and site-specific installations to interpretive "music videos," performance, and photography. Through her praxes, she meditates on themes of identity, belonging, centeredness, superstition, self-help, social structuring, and phenomenology. 
Jasmijn Obispo NL
Since completing her Liberal Arts and Sciences BA in Humanities and Social Sciences at Leiden University College, The Hague in the summer of 2016, Jasmijn continues to explore her interests in the arts. She now finds herself in theoretically engaged roles, having gone on to work at various cultural institutions throughout The Netherlands doing production, programming and Communication and PR as an intern and now freelancer. Some of the organisations she has had the pleasure of working for are Mediamatic, in Amsterdam, and TENT and Het Nieuwe Instituut, both located in Rotterdam. Currently, Jasmijn does Communication and PR for The Hague Contemporary, a communication platform for contemporary art in The Hague. Jasmijn continually seeks to develop her creative methods, looking for ways to include her passion for theatre and movement as forms of expression and reflection in her work.
Rosie Underwood UK, NL
Originally from Scotland, Rosie works for the Institute of Network Cultures. The INC is part of the Digital Media and Cultural Industries department of the University of applied sciences, Amsterdam. She is currently developing the 27th book in their Theory on Demand series which is about vlogging. Her interests are in the post-digital and hipster tendencies towards out- modeled technologies.
Marlene Ronstedt DE
Marlene Ronstedt is a writer and artist. She holds an MA degree in Digital Media Studies from Goldsmiths, University London and a BA from Leiden University's Liberal Arts Honours College. In her work, she explores the transformative impact of technology on society. She sees technology neither as a harbinger of utopia nor dystopia. Instead, she wants to shape society's digitalization by critically assessing its potentials actively. Currently, she works as Blockchain reporter at the Fintech startup Neufund. Her journalistic writing has appeared in various English and German publications. For the Truth Games project, she researches the aesthetics of startup culture.